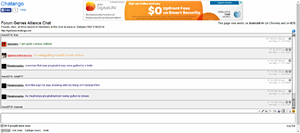 Forum Games Alliance (a.k.a FGA) is an anti-clan chat ruled by co-founder Riptizoid101 and knight Minotaur55. The main goal of that chat, during the time of its conception, was to improve the diminishing activity of the ArmorGames forums. As the name suggest, many of the founding users were fans of Forum Games.  
FGA was founded by users Riptizoid101, wflag10, and Gamerguy1234 on June 7th, 2013. The group made a chatroom so the members can openly discuss with each other different subjects in a fast paced and conversation-like manner without breaking Armor Games commenting rules. Over the years FGA has had many members, only a handful actually being consistent members.
FGA is an "anti-clan", which, as the name suggests, is a group of users that act as a clan but do not share the same principles as a clan. As time had grown by FGA began hosting members of Armor Games who either were inactive, detested the community, or were rejected by it. Many of the users on FGA do not have respect for the site. It has often been referred to as "the Illuminati of Armor Games", due to many of its users breaking the rules consistently with little to no penalty - acts which include spamming, flaming, use of sexually perverted humor, and slander against other users. It has also earned this title due to many well respected, active, and powerful AG users are it's active members.
FGA Pledge
Edit
"I swear to protect the activity from failing and build the future of the FGA. The Forum Games will be my second home, the others will just be a place to fulfill our dreams. In the name of 'You're Banned', and 'My Hill', my posts will rule the threads. Rating Games, RPG's and RP's will be my family. I'll never leave the FGA inactive for a second, it will conquer the inactivity and bring sunshine to the members and the forum. Amen to the FG and FGA."
List Of Members/Associates
Edit
Riptizoid101 (Co-Founder/Co-Leader)
gamerguy12345 (Co-Founder)
wflag10 (Co-Founder)
Minotaur55 (Co-Leader/Staff/Armor Games Knight)
R2D21999 (Armor Games Knight)
xeano321 (Armor Games Knight)
Freakenstein (Armor Games Moderator)
Moegreche (Armor Games Moderator)
Devoidless (Armor Games Moderator [formally])
Nichodemus (Armor Games Knight)
Ferret (Armor Games Administrator)
Clancy12
daleks
Salvidian
Moonfairy
StormWalker
GandalftheGrey666
69_69_69
DidactUnbound
vinster132
pangtongshu
KentyBK
Moonfairy
Laurenloise1507
Chloe2512
Orange_Juice
Aggazaggashoofoo
pickpocket
Charlie506
xXxDARPO89xXx
danielo
Nurvana
Ghost_of_Matrix
superstarsilver
JACKinbigletters
Agent0range (Non-Armor Games user)
Rayoflight
Possum
Alexistigerspice
Guest_Pegasus1234
Killersup
Operation_Nilo
MattEmAngel
Frank_frooton
0rangebot (Sentient Robot Lifeform)
CannedTeaMan (Sentient Robot Lifeform)
FGA seeks to abolish Armor Games through oppression
Although Ferret is mentioned as a member his appearance was brief
Ad blocker interference detected!
Wikia is a free-to-use site that makes money from advertising. We have a modified experience for viewers using ad blockers

Wikia is not accessible if you've made further modifications. Remove the custom ad blocker rule(s) and the page will load as expected.