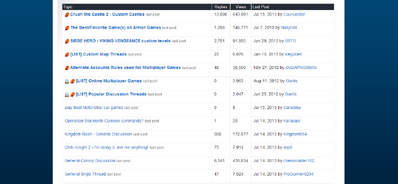 The Flash Game subforum of the Gaming section is just a general forum about flash games on Armor Games. You can discuss anything related to flash games in this forum.
Thread types
Edit
The thread types here in the Flash Game section are like those of the Popular Media section. Most threads are asking what your favorite game is, or what you think about a specific game. A large amount of the currently popular threads here are just simple discussions about certain games. While there is still a Game Walkthrough section of the forums, a lot of walkthrough are also featured here.
Ad blocker interference detected!
Wikia is a free-to-use site that makes money from advertising. We have a modified experience for viewers using ad blockers

Wikia is not accessible if you've made further modifications. Remove the custom ad blocker rule(s) and the page will load as expected.